Testing and marking of precious metals articles are used to determine and guarantee their fineness.
Testing and marking of precious metals articles with the state stamp are carried out by the State Office for Metrology (DZM).
Precious metals articles are tested and stamped on the premises of the DZM. Exceptionally, at the request of the manufacturer or importer they may be tested and stamped with the state stamp outside the premises of the State Office.
The manufacturers of precious metals articles from the Republic of Croatia are obliged to submit those articles to the DZM for testing and stamping. When submitting precious metals articles for testing and stamping to the DZM the clients are obliged to submit a written request (application) in which they have to state the type of article, number of pieces and fineness of alloy. 
The written request should be submitted on the form Request for testing and hallmarking of precious metals articles.
Should the DZM find, by means of testing, that the article submitted for testing is of the corresponding stated fineness, it shall stamp the article.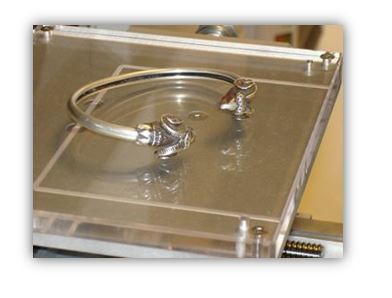 Should testing show that the fineness of the submitted article is less than the lowest for the corresponding precious metal, the DZM shall withhold stamping and issue formal rejection.
If the client is not satisfied with the finding by the DZM surveillance body, they can file an appeal to the director of the State Office for Metrology and require the repeated testing. The director of the State Office should then issue a formal decision on the appeal.